Choosing the colors you want to use is a fun part of making sequin christmas ornaments. You can make them to match your tree theme using just one or 2 colors or you can do a colorful sequin christmas ornament and use all different colors. We used a mix of gold and silver sequins.
One of the great things about these ornaments is that they do not break easily and will last for many years. I still have some that I hang on my tree every year that I made over 40 years ago!
Another great thing about these ornaments is that they do not use seasonal parts. Sequins, pins and styrofoam balls are readily available year round!
Begin your ornament by threading a sequin cup onto one of your pins. Dip tip of pin into craft glue and then insert the pin into your styrofoam ball. The glue will prevent the pins from working their way out of the ball later. Repeat process, pinning the sequins, each slightly overlapping the previous ones in such a way that the entire ball gets covered with sequins. Depending on the size of your styrofoam ball this could take some time. I usually enjoy a TV program while doing this to help pass the time.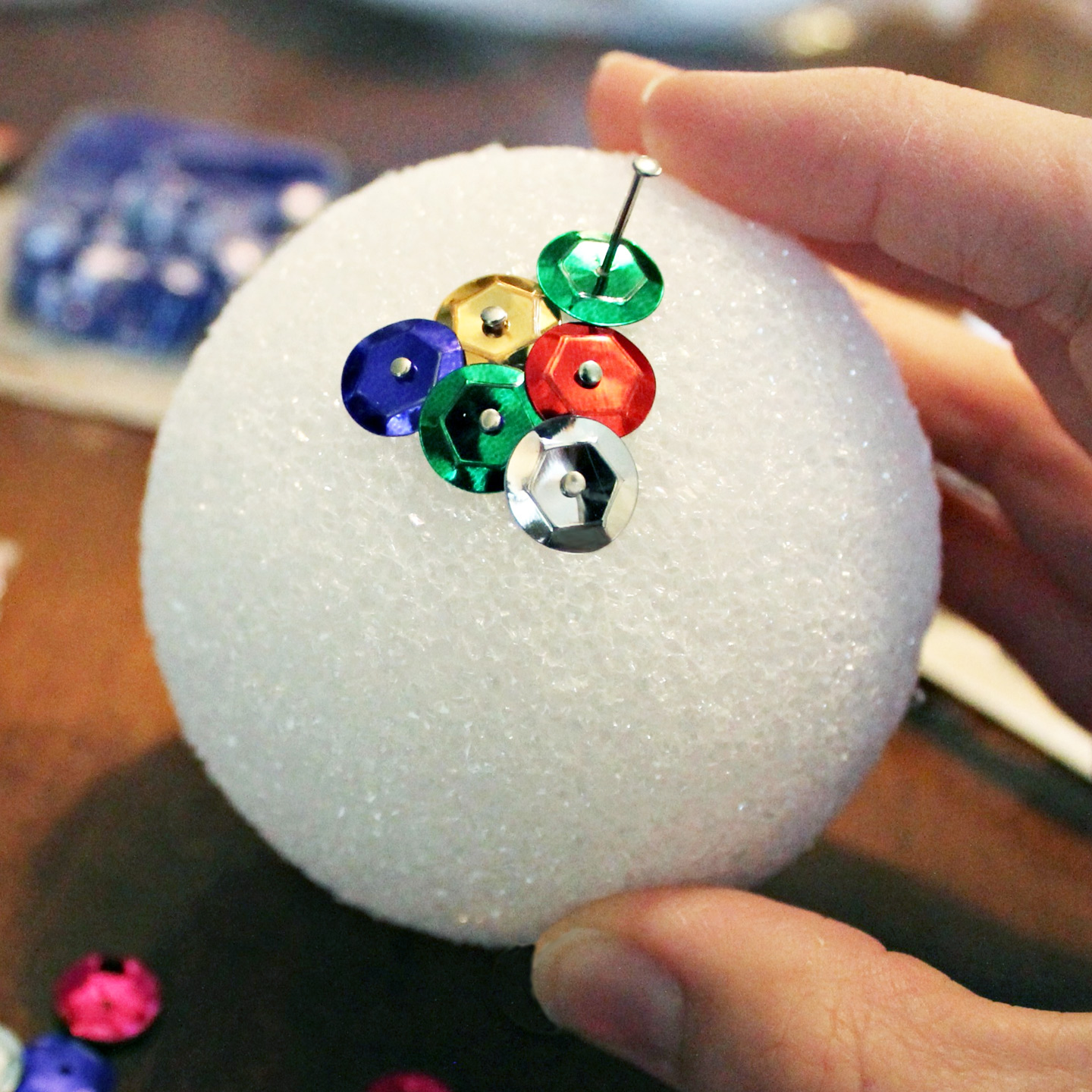 Pin or hot glue the end of your bead garland, shiny cord, satin rope, flair string or other cord to your styrofoam ball. Wrap it around the ball until it meets the beginning of the string. Cut and pin or hot glue into place. Repeat this process around the ball as many times as you wish, depending on the size of the ball you are using.
Using a fresh sequin pin poke a hole through a sequin into the ball at the top where all the pieces come together. Cut a 6" piece of craft wire and bend in half. Dip both ends into glue and insert into the hole you just made. Let dry. This will form your ornament hanger.
Make enough to decorate your whole tree.

Here are some beautiful variations that we found on the internet that are sure to inspire your creative ideas!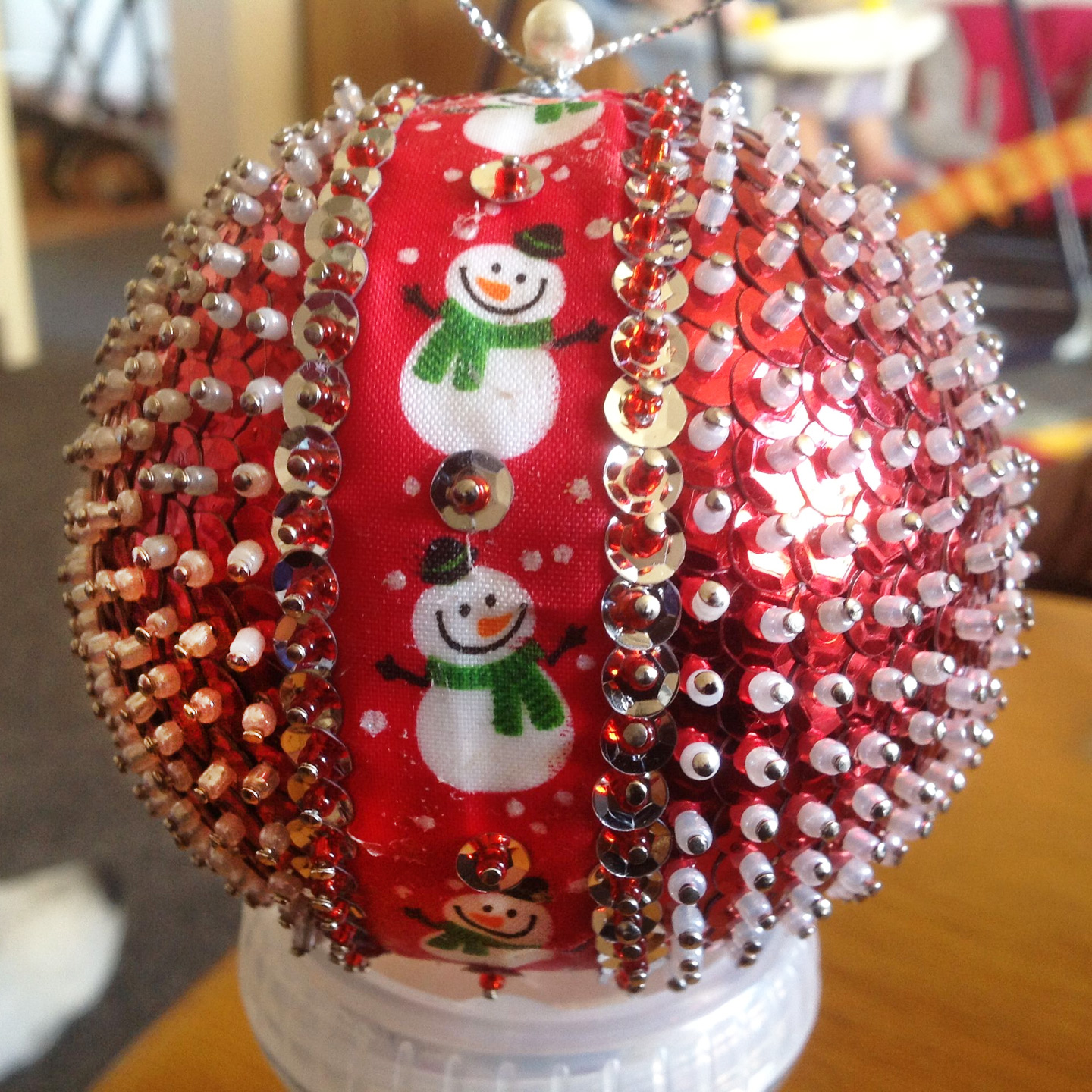 Ribbon Sequin Ornament. This crafty person used the cutest piece of Christmas snowman ribbon on her ornament and added clear seed beads to her pins before adding a sequin, giving it a bit of a spiky appearance. It looks like she secured her ribbon with a few choice placed sequin pins. I just love this idea!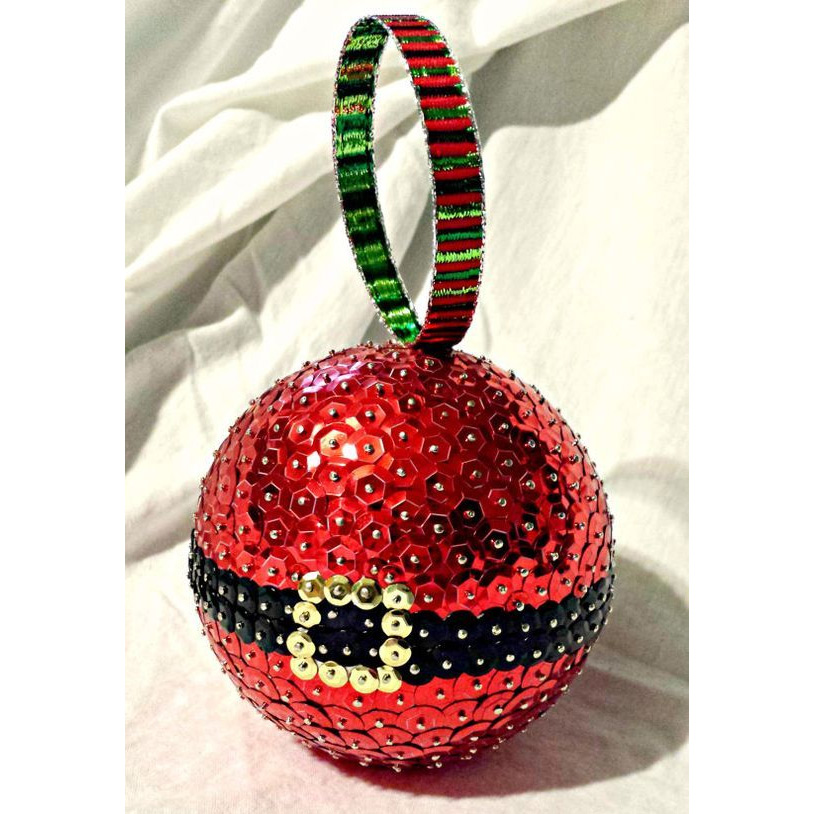 Check out this adorable Santa themed ornament. This person used the colors of her sequin to create a Santa sequin ornament. The hanger appears to be made with a Christmas themed bracelet. I imagine a beautiful piece of ribbon would work just as well. I picture adding a jingle bell to the bottom of this ornament.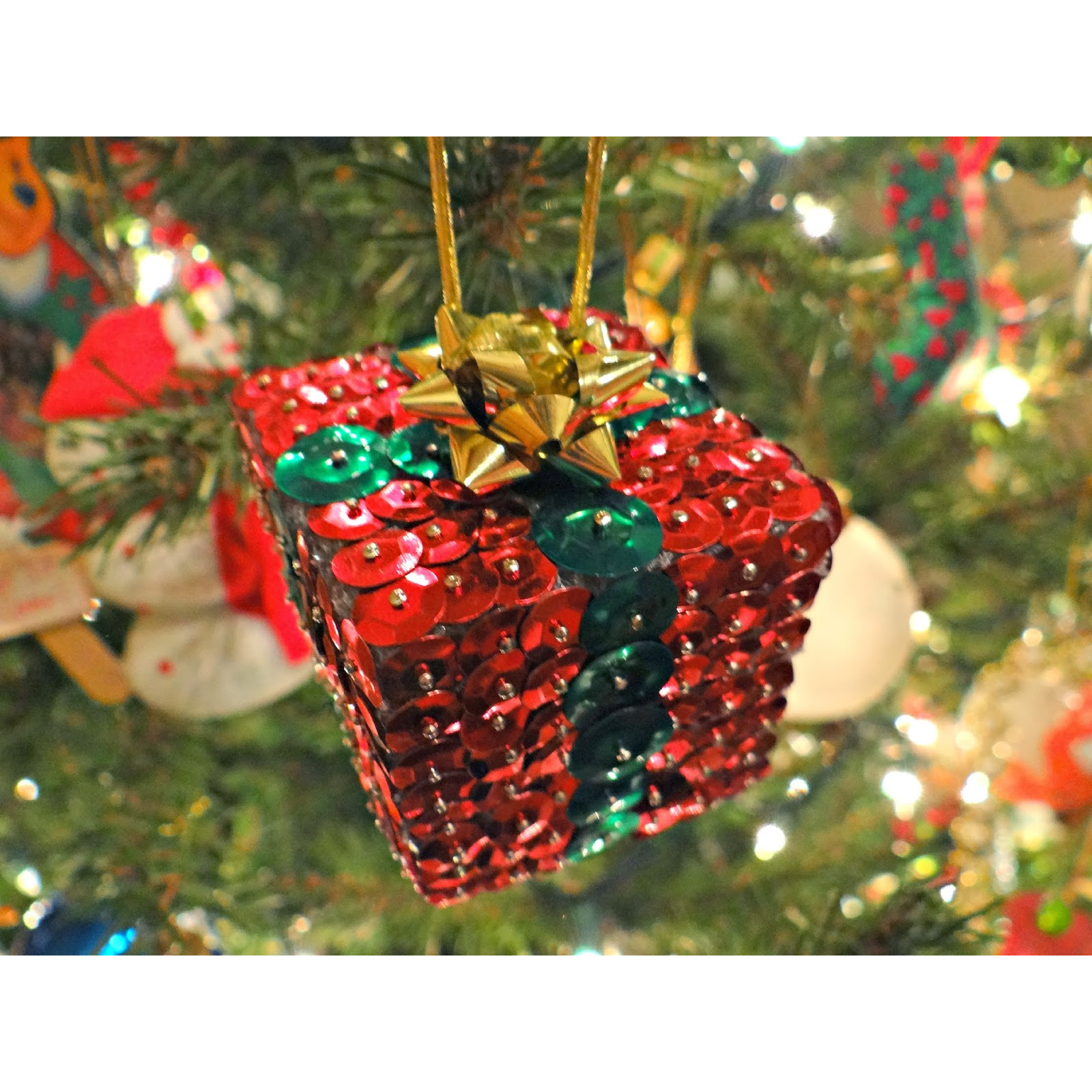 Christmas Gift Ornament. Here is a fun idea. This crafter used a 2" to 3" cube shaped piece of styrofoam to make a cute little Christmas gift. Add a tiny bow to the top and hang with a beautiful piece of gold metallic cord.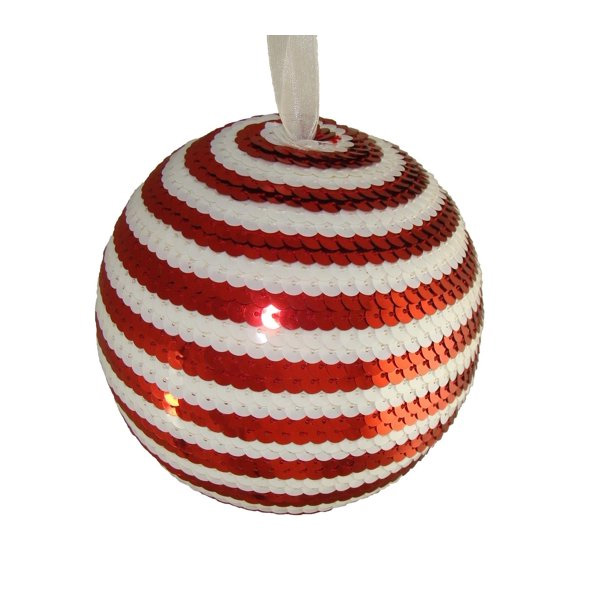 Candy Cane Striped Sequin Ornament. Here is a cute idea. This one would be easy to make using sequin string instead of individual sequins. You could probably just use glue instead of pins too. Just use pins to hold the sequin string in place until the glue dries.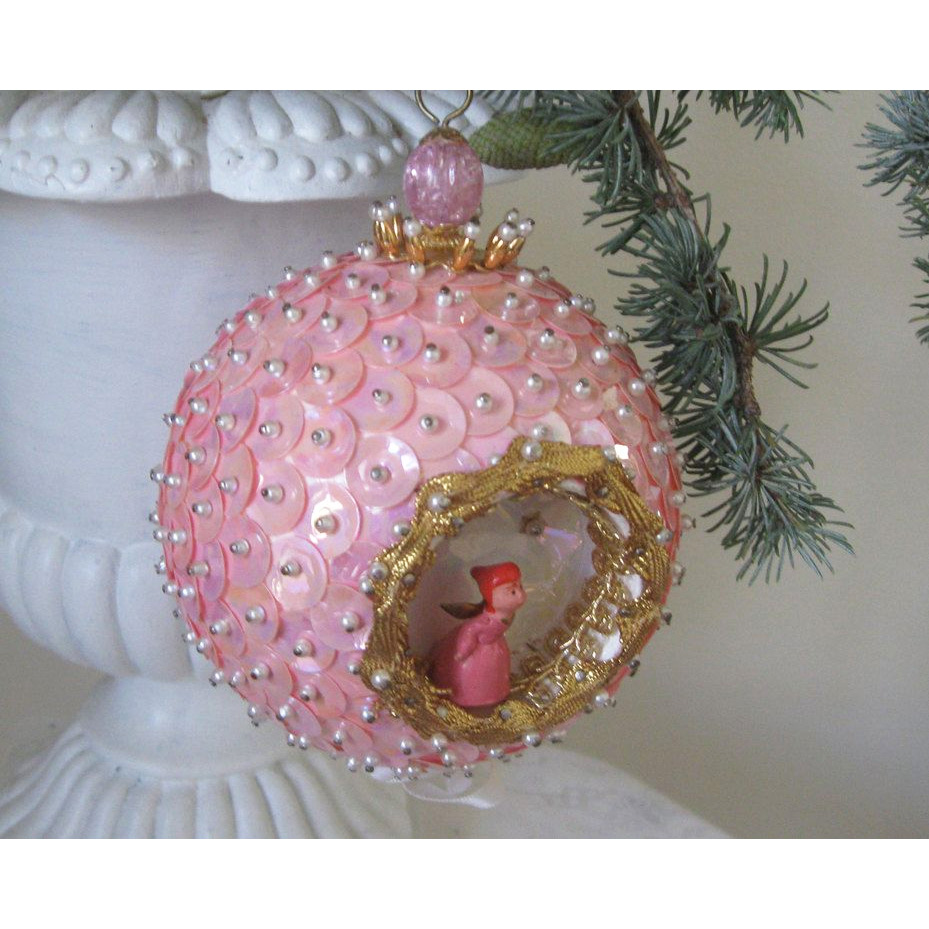 Ornate Pin Sequin Ornament with Indented Display. Someone spent a lot of time creating this beautiful sequin ornament. I would use something round to trace a circle and then use something like an X-Acto knife to carve out the indention. It looks like maybe they used a type of fabric trim or rick-rack around the outside edge of the hole and added a few well placed rice beads to give it a classy, vintage feel.
Snowman Sequin Ornament. My grand daughter absolutely loves snowmen. She would just flip over this little guy. I am not sure if they bought a styrofoam shape or created their own but it is just too cute! I love how the scarf is done with different colors of sequins. Add a carrot nose, a pair of tiny googly eyes, a tiny broom and some small black buttons to finish him out.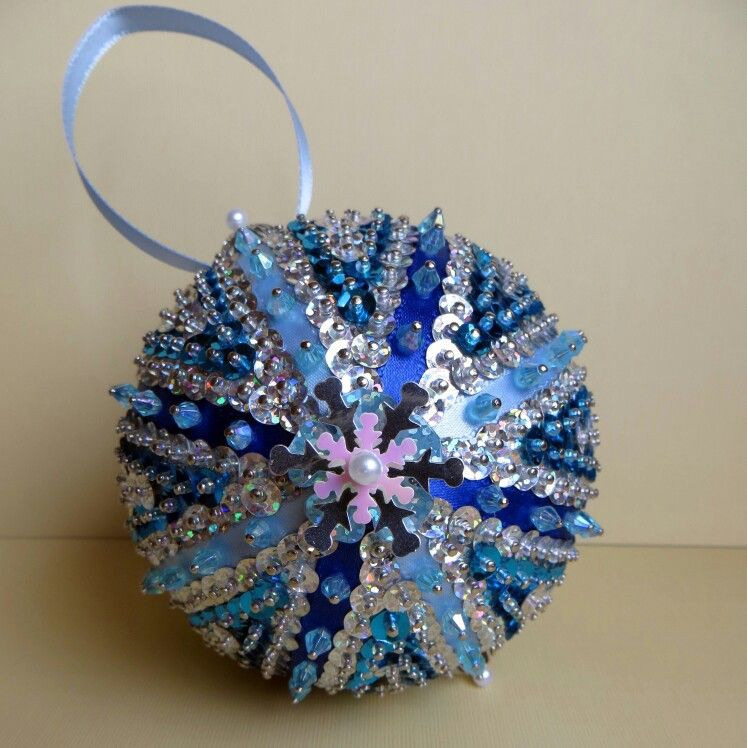 Sequin Ornament with Seed Beads and Rondelle Beads. I like how this sequin ornament incorporates ribbon, sequins, seed beads and rondelle beads so beautifully. It looks like she may have pinned her ribbons using 4 lt blue and 4 dk blue ribbons and then created a diamond like pattern between each of the ribbons using seed beads and rondelle beads for even more texture. She used several layered snowflake sequins on the end for a dazzling finish.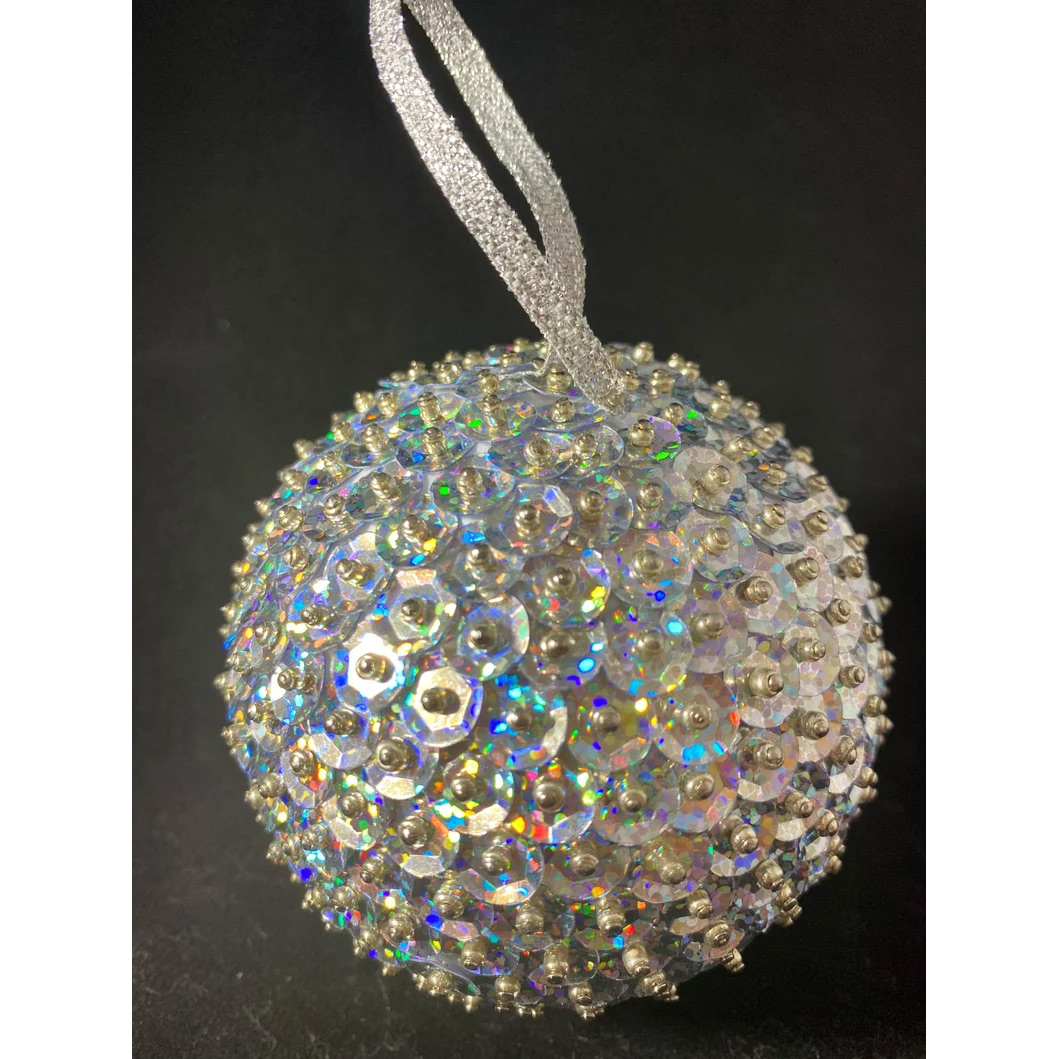 Iridescent Sequin Ornament with Seed Beads. How beautiful is this! I love how the iridescent sequin reflect the light with beautiful colors. This ornament looks like it uses an 8mm cup sequin with a crystal iridescent seed bead. I can picture a tree full of these ornaments. They would go with any color themed tree.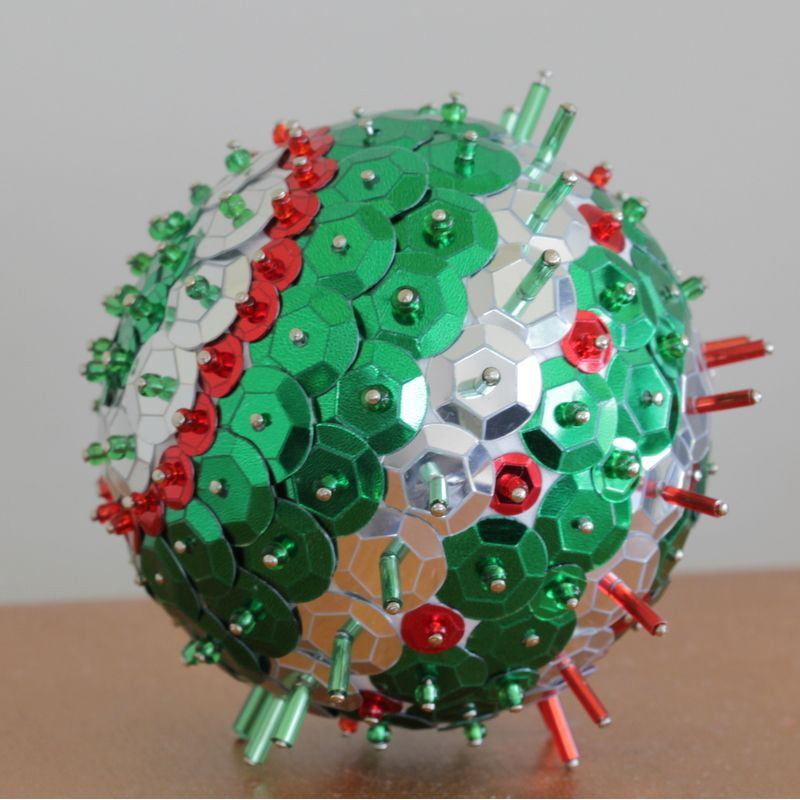 Sequin Ornament with Seed Beads and Bugle Beads. This beautiful sequin ornament uses sequins, seed beads and bugle beads for it's festive look. This crafter used different sizes of sequins in layered rows and used a bugle bead or seed bead before adding the sequin. Such a festive look.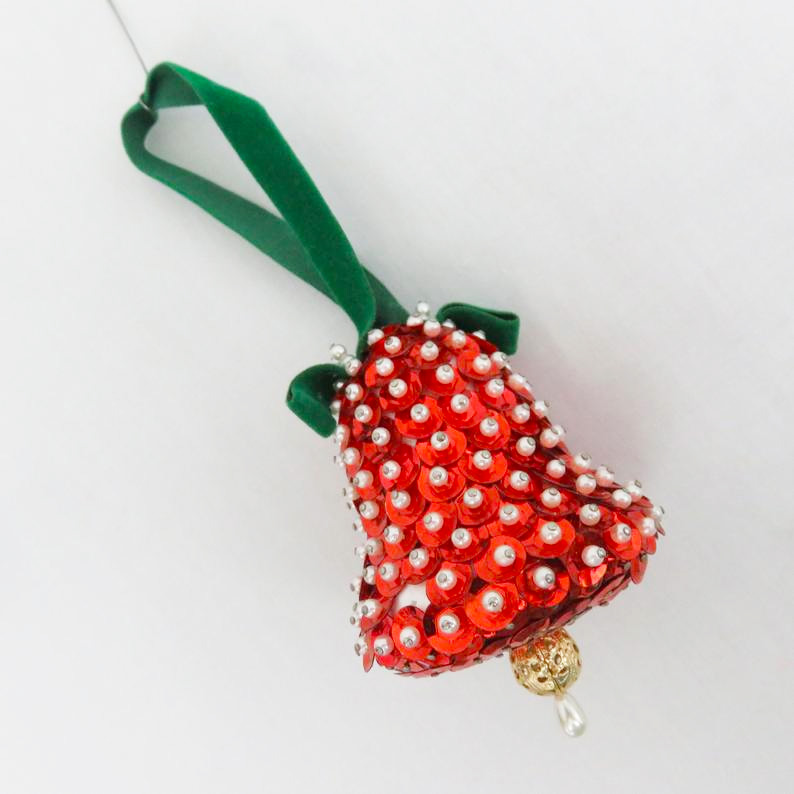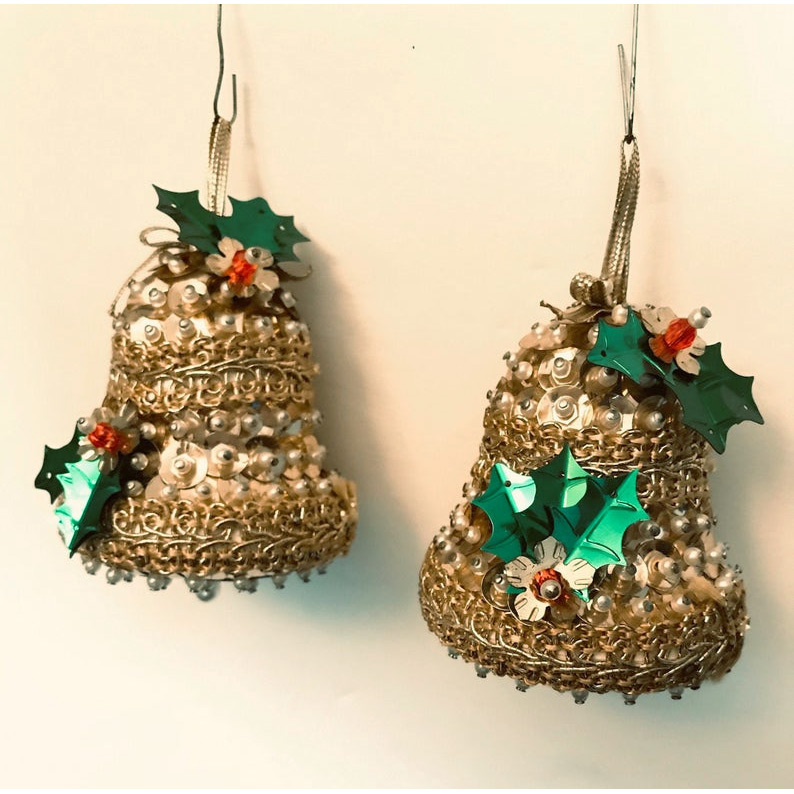 Red Bell Shaped Sequin Ornament with Seed Beads, Gold Bell Shaped Sequin Ornaments. I saw a lot of bell shaped sequined ornaments when I was researching this subject. I just had to include a couple. Some were quite ornate, some were elegantly simple. The red bell uses contrasting colors of cup sequin and seed beads, cleverly adding a beautiful filigree bead and rice bead at the bottom to create the bell chimer. The gold bells use lovely delicate looking fabric trim, green holly leaf sequins and red seed beads for holly berries in addition to the gold sequins. Just stunning!