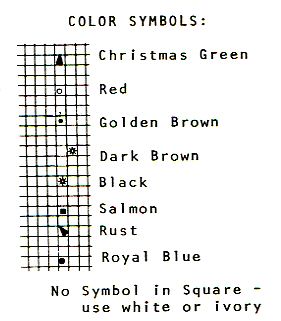 Refer to Fig. 7 & 8 below for details for working the Half Cross Stitch and work each of the 6 designs shown.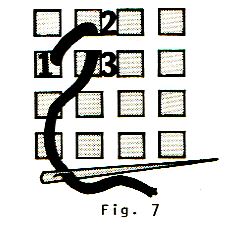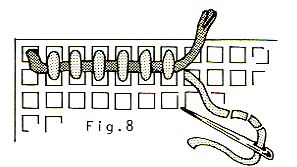 Each square on the graph represents an actual stitch so begin counting with the second square on your
Figure 8 shows you how your yarn looks on the back when beginning your Half Cross Stitch.
Lace your squares together in a cube shape by working over the thread end in a similar fashion bas the half cross stitch but the thread will actually lay between the squares. Lace 4 of the squares together. Then take one of the remaining squares and lace it to the top of the first square. Continue lacing it to the other 3 squares, forming a box, using the Christmas Green yarn. Begin lacing the remaining square to the bottom of your box. Before you completely lace this square in place, slip the jingle bells inside the box. Finish lacing the box completely, pull your needle and thread through several stitches and cut the thread off. See Fig. 9.
Add a loop of gold thread to a corner for hanging.
Wreath: Worked in Christmas Green with Red accents and bow. The background for the Wreath square is White or Ivory.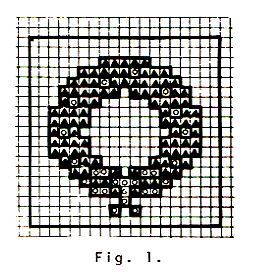 Tree: Worked with a background of White or Ivory and the Christmas Green for the tree itself.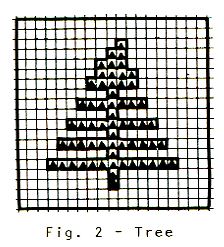 Candle: Worked with a Dk Brown for the holder, White for the candle itself and Red for the flame. Med. Brown was used for the background.
Santa: Worked with a Dk Brown mitten, Red cap with White trim, White beard, Salmon skin, Red for his mouth and Royal Blue for his eyes.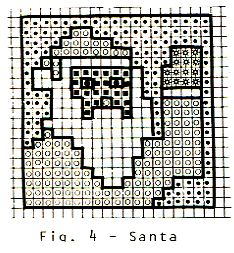 Polar Bear: Worked in White with Dk Brown accents, Brown eyes, Red mouth and a Red background.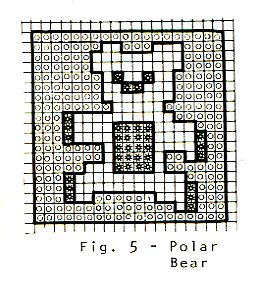 Rocking Horse: Worked with a body of Med Brown, Rust colored mane, Black hooves and saddle with a red rocker. Background for this square is White, Cream or Ivory.